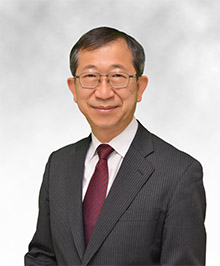 Tatsuya Terazawa
Chairman and CEO
The Institute of Energy Economics, Japan
Chairman's Message
-Asian Zero Emission Community-
Message for December 2022
<Main Points>
PM Kishida has proposed the concept of an "Asian Zero Emission Community" (AZEC)
The objective of AZEC is to reduce GHG emissions in Asia while supporting a sound economic growth for Asia.
AZEC will be designed to address the unique characteristics of Asia.
AZEC will be developed with the inputs from its participating countries.
Taiwan's example provides the necessary direction for other Asian countries. Transition to LNG as the core policy followed by decarbonization through hydrogen and CCS.
1. AZEC's overall objective is to reduce GHG emissions while supporting growth
Prime Minister Kishida of Japan is proposing the concept of an "Asian Zero Emission Community" (AZEC). He discussed this concept with President Joko Widodo of Indonesia on the margins of the G20 Summit Meeting held last month in Indonesia. With the support of President Joko Widodo, PM Kishida will promote the idea with other Asian countries, starting with the ASEAN members and with Australia.
The main objective of AZEC is to substantially reduce carbon emissions in Asia. As was discussed at the COP 27 meeting in Egypt, the world is falling behind in its efforts to contain the temperature rise within 1.5℃ above the pre-industrial era temperature. As Asia now emits more than half of the global GHG emissions, the decarbonization in the region is crucial. The success of realizing carbon neutrality globally depends largely on the progress made in the emerging/developing countries.
Asia is also recognized as the growth center of the world. The efforts for decarbonization should not constrain the sound economic growth of the region while, at the same time, keeping the cost of energy affordable for the people of the region.
These efforts will not be successful if they are pursued by each country individually; there must be cooperation. As Asian countries face similar challenges, cooperation among them would be necessary to be effective. Only through cooperation could resources and technologies be shared, global supply chains be developed, and economy of scale be achieved. Therefore, AZEC is aiming for a wide regional approach within Asia.
2. AZEC can also address the unique characteristics of Asia
There is another reason why an Asian wide initiative would be appropriate. The challenges that Asian countries face are unique and very different from those of Europe or North America. The efforts to substantially reduce GHG emissions must reflect the uniqueness of the region and address the different challenges.
As the growth center of the world, demand for energy in Asia is expected to grow substantially. The potential for renewable energies is relatively modest due to weaker wind in most areas and lack of underutilized flat land near densely populated areas. The long rainy seasons do not help solar power generation either. Due to its geography comprised of many islands and its lack of history for developing transmission lines, international and intra-regional grids remain a major weakness in the region. Adding to the list of challenges that must be addressed, is its large fleet of coal fired power plants which is very young that will continue to play a central role in power generation for many years to come.
These unique challenges are behind AZEC. Asia needs an Asian solution.
3. Further development of the AZEC concept
The concept of an AZEC is still at an early stage of development. The Japanese Government has broadly highlighted its policy areas to include energy efficiency, renewable energies, hydrogen and/or ammonia, CCUS, bio-energies, as well as grid developments. For policy tools, Japan mentioned assistance in developing energy strategies and roadmaps, support for R&D and demonstration of decarbonization technologies, and the provision of investment/finance for the development of standards, the necessary infrastructure, the supply chains, and human resources.
The Japanese Government is fully committed to providing the necessary finance, technology, and capacity building needed for AZEC to succeed and is calling for the participation of mainly ASEAN members. Japan has also called for Australia. Australia, being rich and well-endowed in resources, including natural gas, renewable energies as well as critical minerals, can play a crucial role in the decarbonization efforts of Asia. Participation will be open for future expansion after having established the foundation of AZEC. I believe that it is important for potential participants to provide their insights and inputs to AZEC to further develop the concept making it more concrete and effective for Asia.
By addressing Asia's unique challenges, AZEC could contribute greatly to the world in reducing GHG emissions while supporting growth in the region. But this will depend on the development of the concept through the inputs and initiatives of its participants.
4. Taiwan provides an important direction for other Asian countries
I had the opportunity to visit Taiwan and meet with the leaders of the Bureau of Energy of Ministry of Economic Affairs, Taiwan Power Company, and CPC Corporation last week. It was a very informative visit with valuable lessons and examples that could be incorporated in the decarbonization efforts for Asia. Taiwan faces many challenges like those of other Asian countries. As its economy is growing rapidly, strong energy demand is expected.
Taiwan hopes to develop its offshore wind power potential with floating wind turbines that will need to be widely deployed to generate sufficient power. Currently, the grids to connect the areas relatively rich in renewable energies with the demand centers are inadequate and there are no transmission lines or pipelines connecting Taiwan with other countries. In 2021, coal fired power plants played a major role providing 44.3% of the total generation, nuclear power plants provided 9.6% and renewables 6.0%. Supported by a national referendum last year, Taiwan will phase-out its nuclear power plants by 2025 which is likely to create new and complicated difficulties for Taiwan's energy transition. Taiwan, which is a step ahead in its economic development compared with other Asian countries, is facing similar challenges as the rest of the region. Its proposed energy policies could provide a guide for the countries that will need to catch-up with Taiwan.
Taiwan is determined to accelerate the introduction of renewable energies and is seriously planning to phase-out its nuclear and coal fired power plants. Unfortunately, it will take a long time to deploy and expand renewable energies, in particular floating wind turbines. In the meantime, Taiwan needs additional energy to support its strong economic growth. Its primary policy is to increase the use of LNG, currently generating 37.2% of total power. With several projects to expand its LNG receiving capacity and gas fired power plants, Taiwan expects LNG to support 50% of its power mix in 2025 and the proportion is expected to grow even higher after that date.
Taiwan has a staged approach to reduce GHG emissions. For the first stage, the transition from coal to gas is expected to play the major role in decarbonization. It will certainly develop more renewable energies, but the GHG emissions reduction will be largely offset by the phase-out of nuclear power.
In the second stage, it hopes to deploy offshore wind turbines for power generation in scale while strengthening their long-distance grid connections between areas for power generation and their demand centers. At the same time, they expect to eventually decarbonize their gas infrastructure with clean hydrogen and CCS.
I believe that this two-staged approach could provide a guide for many other Asian countries.