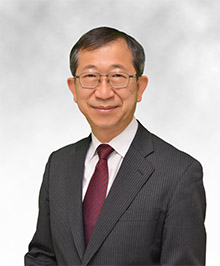 Tatsuya Terazawa
Message from Chairman
As of July 1, 2021, I, Tatsuya Terazawa, was appointed as Chairman and CEO of The Institute of Energy Economics, Japan (IEEJ). As the new Chairman and CEO, I would like to sincerely ensure you that I am fully committed to developing this institute further.
Now, the world is clearly moving toward carbon neutrality by mid-century. The momentum for decarbonization has accelerated as this year's Group of Seven Nations Summit agreed to end support for exports of coal fired power plants without measures to reduce greenhouse gas emission by the end of 2021. On the way forward to COP26 in November, we could see more moves away from carbon. As Japan is now in the process of formulating its sixth Strategic Energy Plan, policies to achieve a decarbonized energy system by 2050 are thoroughly discussed. The realization of carbon neutrality is a great challenge especially for Japan which is lacking indigenous energy resources. This is true of not only Japan but also of emerging economies – in Asia and other regions– where energy demand is expected to grow substantially.
Energy and climate change issues are two sides of the same coin. Applying the guiding policy principle of 3Es plus S – energy security, economic efficiency and environmental conservation plus safety, Japan is facing a very urgent need to find a realistic pathway to carbon neutrality.
Our institute has established a strong presence in Japan and in the world by providing objective factual analyses and sound policy recommendations based on future energy and environmental outlooks to tackle the challenges of the times. We are determined to make continuous efforts to find optimum policy solutions to meet the carbon neutrality target by taking advantage of our close networks with Japanese and other governments, industry groups, experts, research organizations and others. We will provide our quality analyses and farsighted recommendations in a timely manner to contribute to your policymaking and business strategy developments while we endeavor to present our views to the global community.
In its 55th year, our institute will further enhance its research and policy/strategy recommendations, to address the medium to long-term structural changes in the energy situation and global climate change issues. Thank you very much for your support and I look forward to a continued successful relationship.
Tatsuya Terazawa
Chairman and CEO
The Institute of Energy Economics, Japan
July 2021

CV of Mr. Terazawa