YOSHIOKA, Akiko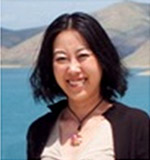 Senior Researcher, JIME Center
Fields of Study: Contemporary Iraqi Politics and Economy
| | < Education > |
| --- | --- |
| 1999 | Graduated from Osaka University of Foreign Studies, Japan (Middle Eastern Studies) |
| | < Employment History > |
| 1999 | Joined JIME Center as an Assistant Researcher |
| 2004 | Researcher, JIME Center |
| 2005 | Researcher, JIME Center-IEEJ (Institute of Energy Economics, Japan) |
| 2007 | Visiting Research Fellow, Gulf Research Center, Dubai |
| 2013-present | Senior Researcher, JIME Center |
Domestic Activity:

The Japan Association for Middle East Studies
The Japan Association of International Relations

Research Papers(in English):

1. "The Cold Relationship between Arab States and Iraq during the Transitional Phase after the Iraq War." Journal of Greater Middle Eastern Studies, Vol.1, No.2, 2008.
2. "The shifting balance of power in Iraqi Kurdistan: The struggle for democracy with uninstitutionalized governance." International Journal of Contemporary Iraqi Studies, Vol.9, No.1, 2015.