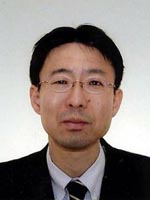 NINOMIYA, Yasushi, PhD
Senior Researcher, Manager, Renewable Energy Group, Electric Power Industry & New and Renewable Energy Unit
Specialty:MRV methodologies of GHG emissions/reduction
Market mechanisms for GHG control
Energy demand modeling analysis

| | |
| --- | --- |
| 1997 | MSc in Energy Economics, Surrey Energy Economics Centre (SEEC), University of Surrey |
| 2002 | PhD in Economics, Surrey Energy Economics Centre (SEEC), University of Surrey |
| 2001 | Researcher, Climate Policy Project, Institute for Global Environmental Strategies (IGES) |
| 2004 | Environmental Expert, Climate Change Policy Division, Global Environment Bureau, Ministry of the Environment Japan |
| 2005 | Deputy Director, Climate Change Policy Division, Global Environment Bureau, Ministry of the Environment Japan |
| 2007 | Deputy Director, Office of Market Mechanisms, Climate Change Policy Division, Global Environment Bureau, Ministry of the Environment Japan |
| 2010 | Director, Market Mechanism Group, Institute for Global Environmental Strategies (IGES) |
| 2013 | Senior Researcher, Energy Conservation Group, Global Environment and Sustainable Development Unit, Institute of Energy Economics,Japan (IEEJ) |
Research papers and books:
"Underlying Trends and Seasonality in UK Energy Demand: A Sectoral Analysis", Energy Economics, Vol. 25, No. 1, pp. 93–118, 2003 (with L. C. Hunt and G. Judge).
"Unravelling Trends and Seasonality: A Structural Time Series Analysis of Transport Oil Demand in the UK and Japan", Energy Journal, Vol. 24, No. 3, pp. 63–96, 2003 (with L. C. Hunt).
"Modelling underlying energy demand trends" Chapter 9 in Hunt, L. C. (Ed.), Energy in a Competitive Market: Essays in Honour of Colin Robinson, Edward Elgar, UK, 2003.
"Prospects for Energy Efficiency Improvement through an International Agreement", in Climate Regime Beyond 2012: Incentives for Global Participation, NIES/IGES Joint Research Report, National Institute for Environmenta Studies, Japan, 2004.
"Primary energy demand in Japan: an empirical analysis of long-term trends and future CO2 emissions", Energy Policy, Vol.33, pp.1409-1422,2005 (with L. C. Hunt).
"Classification of MRV of Greenhouse Gas (GHG) Emissions/Reductions:For the discussions on NAMAs and MRV", Policy Brief No.25, Institute for Global Environmental Strategies, 2012.
"Impact of COP18 Decisions on Use of Kyoto Mechanisms by Japan", Policy Brief No.27, Institute for Global Environmental Strategies, 2013 (with A. Kuriyama).
Activity on Committee etc.
International Association for Energy Economics (IAEE)
Japan Society of Energy and Resources
Society for Environmental Economics and Policy Studies, Japan (SEEPS)
Japanese Economic Association (JEA)