IRIE, Kazutomo, PhD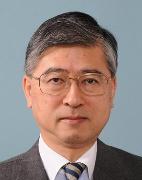 Managing Director, President for Asia Pacific Energy Research Centre (APERC)
Fields of Study: Energy Policy, Energy law, International Relations, International Cooperation
| | |
| --- | --- |
| 1979 | Bachelor of Law, the University of Tokyo |
| 1988 | Master of Science in Foreign Service, Gergetown University |
| 2002 | Doctor of Energy Science, Kyoto University |
Major Research Papers

"An Essay on Integrated Understanding of Energy Security and Economic Efficiency of Energy," IEEJ Energy Journal Vol. 13, No.2 (2018).


"Tetrahedron Model As An Explanatory Tool For An Optomal Power Mix"  2016 IAEE Asian Conference, February 2016.


"APEC Low-Carbon Model Town Project: Progress and Prospect-Focusing on Low-Carbon Building-" the10th Energy Forum 2015 on Advanced Building Skins, November 2015.

"Future of Electric Power Mix in Japan" (with Goichi Komori), 2013 IAEE International Conference, June 2013.

"Redefining Interrelationship between Nuclear Safety, Nuclear Security and Safeguards," Journal of Power and Energy Systems Vol.6, No.2, June 2012.

"Physical Protection and Its Relationship with Nuclear Disaster Preparedness and Nuclear Damage Compensation in Japan," the Proceedings of GLOBAL2011, December 2011.

"Japan's Nuclear Energy Policy after the Fukushima accident," the Proceedings of LCES2011, October 2011.

"Economics of Nuclear Energy," IEEJ Energy Journal Vol.4, No.3, August 2009.

Activity on Committee etc.