Conference Venue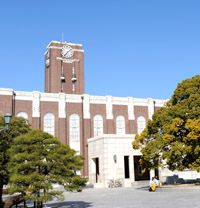 Kyoto University Clock Tower Centennial Hall
Location: Yoshida-Honmachi, Sakyo-ku, Kyoto, 606-8501
The most recognizable structure of the Kyoto University campus, the Clock Tower was designed by Goichi Takeda, the university's first Professor of Architecture, and completed in 1925. With attention given to Secession-style design in all of its facets, the sonorous feel of the exterior makes for a building of immense historical significance.

Using the most advanced technology of the time, the Clock Tower was one of the first university structures to be built with reinforced concrete. The interior of the hall itself was assembled using angle-plates, rivets and steel trusses. In the eight decades since it was opened, the Clock Tower has come to symbolize Kyoto University, having served variously as the lecture hall for the Faculties of Law and Economics, as well as, in more recent times, the Administration Bureau.


For more details, please visit the official website.